Kris English, PhD
The University of Akron
Matt White is an audiologist in the UK National Health Service, and works in Doncaster in South Yorkshire, England. He recently participated in a counseling course at the Ear Foundation in Nottingham, wherein he described the following patient encounter:
My patient was a man in his late 70's who has had a rubbish time over recent years. Multiple organs are in failure, one kidney has also been removed for cancer treatment and he's had other cancer issues too as well as issues like pancreatitis. His mobility is greatly compromised and he carries a "do not resuscitate" order with him as his physicians have told him that the efforts required to resuscitate him are likely to kill him, but in a much more horrible way than just going. He told me that his family is already grieving him in advance and he just can't wait to be with his wife again, who passed away a few years ago.
I wasn't sure at first what type of person he was going to be, some elderly people that I see in this condition have given up and just want to die. Others, like this gent are very positive and just want to get what they can out of the time they have left. This chap, for example, was off to get his cataracts done under local anaesthetic so he can see better. He talked about seeing the faces of his great-grandchildren more clearly. He talked about all this while explaining that he just wanted to hear as well as he could, which I was able to improve for him in the appt. Explaining all the non-hearing related parts of his life this seemed to help him.

All I did was listen.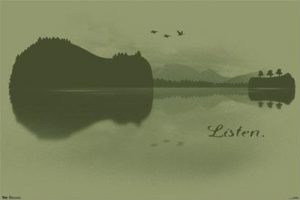 "All I Did" … But It's Actually a Lot!