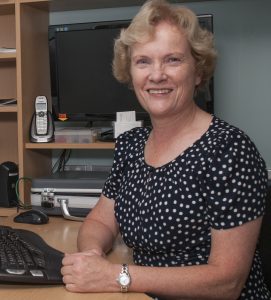 Jeanine Doherty, Au.D., M.Phil., M.B.S, B.Soc.Sci.(Hons.)
Hearing Excellence, Christchurch, New Zealand
In Hans Christian Andersen's (1837) tale, an Emperor's weavers said they made him some new clothes that would be visible to all but the stupid or incompetent, when in fact they had made no clothes at all. So he walked around naked, yet believed he was attractively well dressed and adequately demonstrating his position of achievement and power.
We must hope that hearing aid manufacturers are not looking at hearing aid visibility with the same deceptive reasoning, for in their push for invisibility as desirable, audiologists and aid wearers could be treated as if a bit stupid. Completely in-the-ear hearing aids were introduced by the manufacturers, in part, as a solution for stigma or the "hearing aid effect" (Johnson et al, 2005) and yet it can be argued that making the devices discreet actually contributes to self-stigma, a belief that hearing loss is a problem that should be hidden (Kelly & Wensveen 2014; Wallhagen, 2009).
Invisible hearing aids have also been shown to produce the highest mark-up factor for both manufacturer and audiologist (De Silva, Thakur & Xie, 2013). It could be suggested that our promotion of invisible aids is a social construction suiting our own benefit.  Or is invisibility also, or solely, an end-user concern? What is a patient's desire for invisibility driven by? Vanity, stigma, gender, significant-other input? How do we counsel that size really does not matter?
Vanity and Stigma
Most human interactions involve an appreciable chance of being slightly embarrassed, or a slight chance of being deeply humiliated (Goffman, 1959). We spend a lot of energy managing the impressions we make in appearance and lifestyle to avoid embarrassment to the best we can (Scheff, 2013), Cooley (1922) wrote that our perception of ourselves has 3 principal elements: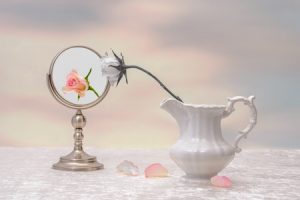 Our imagination of our appearance to others
Our imagination of their judgement of our appearance
Self-judgement about these imaginings, such as pride or mortification
The four traits of vanity common within sociology, psychology and philosophy literature are consistent with Cooley: (1) appearance concern, (2) concern about appearance perception, (3) achievement concern and (4) concern about achievement perception. Appearance concern and achievement concern are related to personal values, while the two perception components relate to self-concept (Wang & Waller, 2006).
Wang and Waller (ibid.) state that advertising messages use this knowledge to appeal to our need for physical beauty and achievement status. We see the symbolically positive appeal, for example in an expensive handbag or car advert, where customers are told their beauty and/or status will improve with ownership. In hearing aid adverts, we see a negative spin on product visibility; consumers, then, are led to prefer invisibility to protect their self-image. Continue reading →