Kirsten Ellis, BA(Hons) MSc
Audiologist
Southend University Hospital
NHS Foundation Trust
In Yoga, we are encouraged to minimise distractions. Now, I am speaking from a student's point of view, as I certainly don't possess the in-depth knowledge that my dear yoga teachers do. When laying in Savasana (the prone relaxation pose at the end of a class, and sometimes at the beginning) we are reminded that there are no distractions, there is nothing else we need to do at that moment apart from being present in the space. Often easier said than done!So to my surprise, when relaxing in Savasana one evening and listening to the teacher guide us through meditation, she reminded us that we were there for ourselves, we had no expectations on us at that time, and that this was a safe space for us to just "be."
"Don't bring your story." – The Breakthrough
On hearing this my mind lit up (probably much to the disappointment of my yoga teacher) – how can this be carried over into our counselling?  The clinical ego wants us to bring our "story" to each appointment.  It tells us to reassure the patient that we know best, that our experiences and training (our story) are how we can best manage someone seeking help.
Additionally, in a more literal sense we don't want to belittle our patients' experiences by comparing them to our own. How often have we felt disheartened at being told "I know how you feel," or "I've been though that, it's not so bad"?
To truly listen, we shouldn't bring our story to the appointment. By releasing our story and subsequent distractions, we can truly be present to listen.
The Yogi and the Clinician
My yogi has helped me work through what feels uncomfortable, or through a busy state of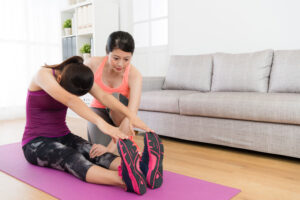 mind to find peace in the present moment. When we are truly listening, are we also not working to find peace within ourselves to be fully present for the person in front of us?
I've often found myself in the midst of what I would feel is a difficult conversation, trying to push my clinical ego aside and allowing my patient to just talk. For me, this echoes working through what I feel is uncomfortable, allowing my patient to work through vulnerability to achieve a sense of calm (not necessarily a conclusion) in the appointment.
What are we doing to be self-aware, and how are we responding to this state?
To summarise my thoughts, I am reminded of a recent patient who attended for a review of his hearing aids. On the outside, one would assume he was a patient who could not hear well, felt his hearing had changed, and that an update was needed. However, once he came and took a seat, his body language communicated some further inner turmoil.
He confessed that he had been mishearing and forgetting important dates, the most
recent being his daughter's landmark birthday celebration. I let him talk. With tears in his eyes, he told me that he had sought an appointment at his GP for an assessment for dementia. My clinical ego wanted me to reassure him, and tell him everything is fine and to push on with the appointment. But instead, we sat and explored his concerns. We asked each other questions and we sat through conversation and silences that were uncomfortable for the both of us.  We came to an agreement that we would get his hearing aids as good as they can be for his dementia assessment, so that we can face things confidently with our heads held high.
My general feelings once the appointment ended were that because of our interaction and agreement, we were both fully self-aware, in a compassionate environment that allowed for vulnerability (Hanson, 2009). Upon further reflection, I was struck by the parallels of Rogers' (1961) three conditions of person-centered counselling: congruence with self, unconditional positive regard, and empathic understanding – all essential audiologic counselling skills. Of the three conditions, the foundational skill of self-awareness/congruence with self seems to generate almost no interest among audiologists.
So let's start, shall we? Let's develop a professional version of the prone relaxation pose Savasana – and breathe.
---
Reference
Hanson, J. (2009). Self-awareness revisited: Reconsidering a core value of the counseling profession. Journal of Counseling & Development, 87(2), 186-193.
Rogers, C. (1961). On becoming a person.  Boston: Houghton Mifflin.